Introducing: Client Vault
The Client Vault feature provides a secure place for users to upload and submit client data for use within the Quik! App. It allows users to export a CSV file from their preferred data source and upload it into the Client Vault to fill out forms, making it perfect for those without integrated CRMs. The Client Vault allows users to save and use client records like a CRM or a typical data source.
Here are some additional helpful articles:
Getting Started with Client Vault
Before you can use the Client Vault feature, you will need to Set Up Multi-Factor Authentication (MFA).
Once your MFA is set up, go back to the home screen, and you will see the Vault icon. Click on it to access the Client Vault.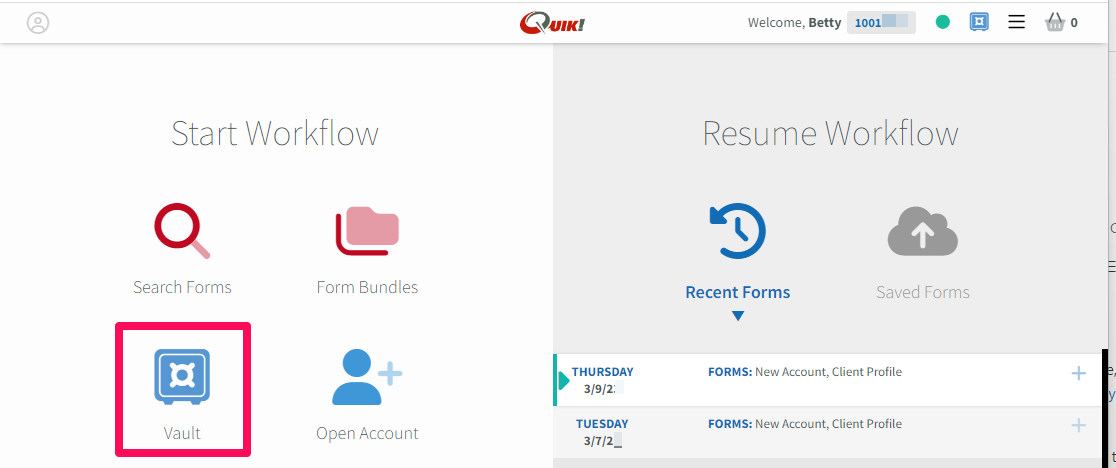 Adding Clients to Your Vault
In the Client Vault, you can import a CSV file or manually add new client data. For more information on uploading a CSV file, please visit this help article: How to Upload CSV File.
To manually add new client data, click on the Manual Input option, where you can add information about your client.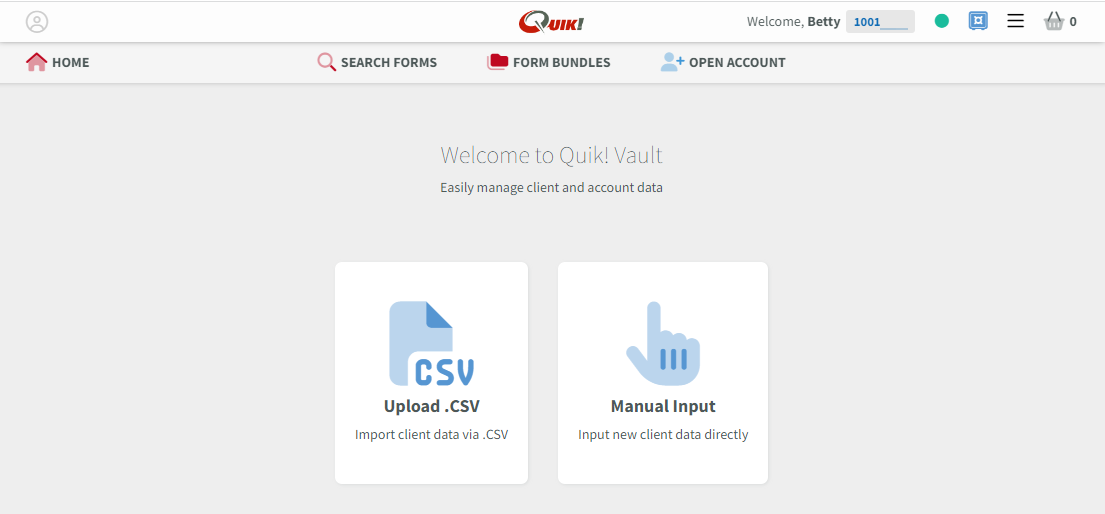 The scroll bar on the right side of the page will allow you to see all the information available for prefill.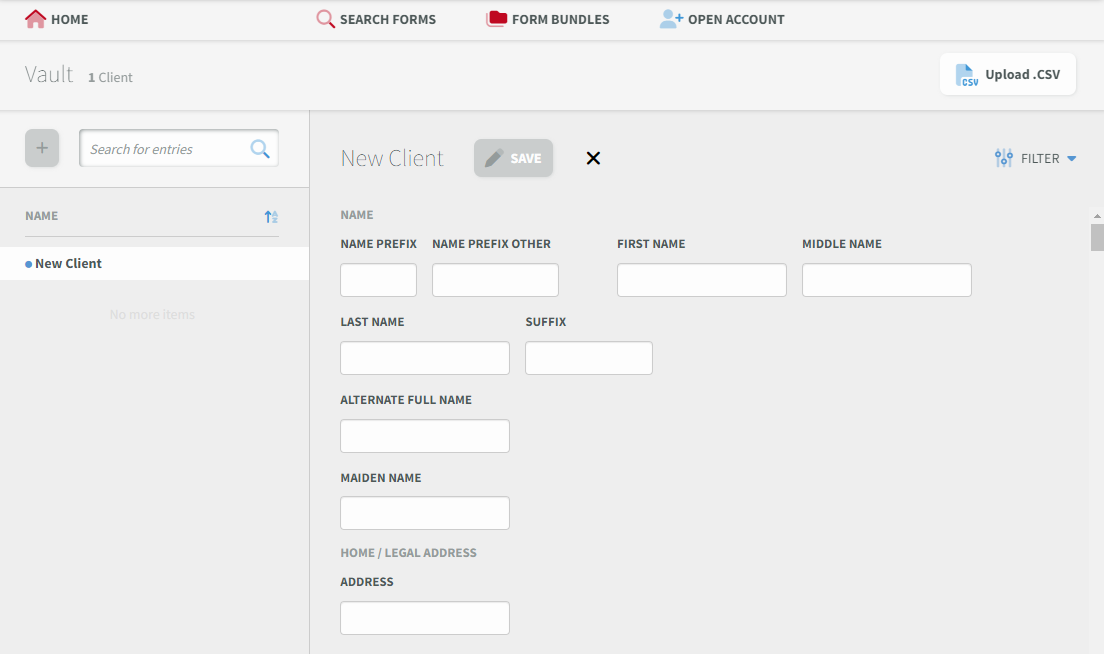 Once you have added your client's information, click the Save button to add your new client record to your Vault.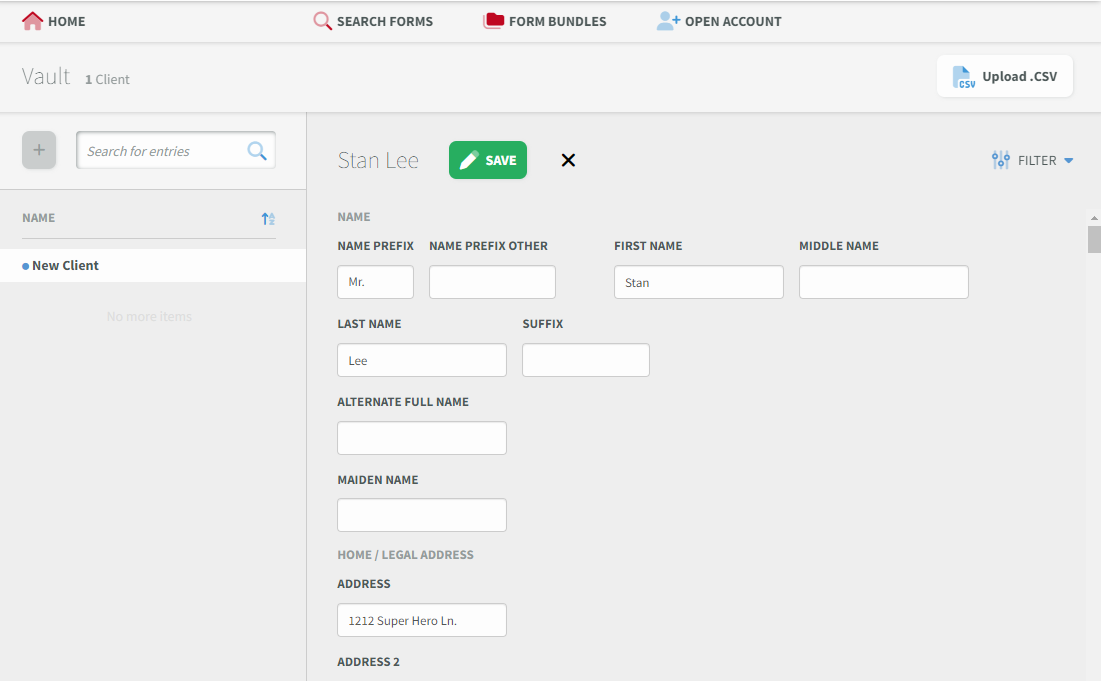 Search Forms
From your Vault, click the Search Forms option at the top to access the forms you want to fill out.

Choose Forms
You will now see three main steps of the Quik! App process: CHOOSE FORMS, ADD PEOPLE, and FINALIZE.

You have a few options to search for forms: Companies, Form Search, and more!
Use the Companies field to see a drop-down of all public companies. You can either type into the field to narrow the list or scroll through the drop-down to select a company. Click the star icon next to the company name to add it to your Followed Companies. Click here to learn more about How to Add Followed Companies.
Use the Form Search field to search for forms by their Form Name. (Ex: Beneficiary, 529, Kit).
Finally, the State, Form/Lit Number, and Form ID options show the various ways to search for forms based on their metadata.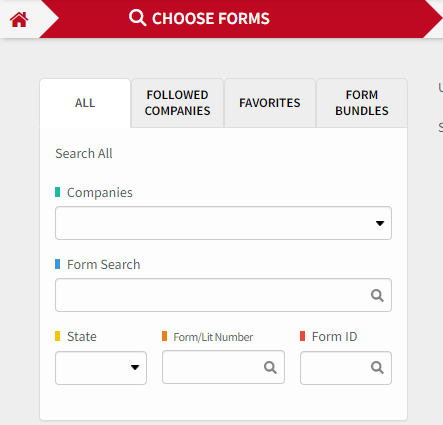 Add People - Using Your Vault Client Records
After selecting a form or Form Bundle, you can add client information to your forms by clicking the ADD PEOPLE tab at the top.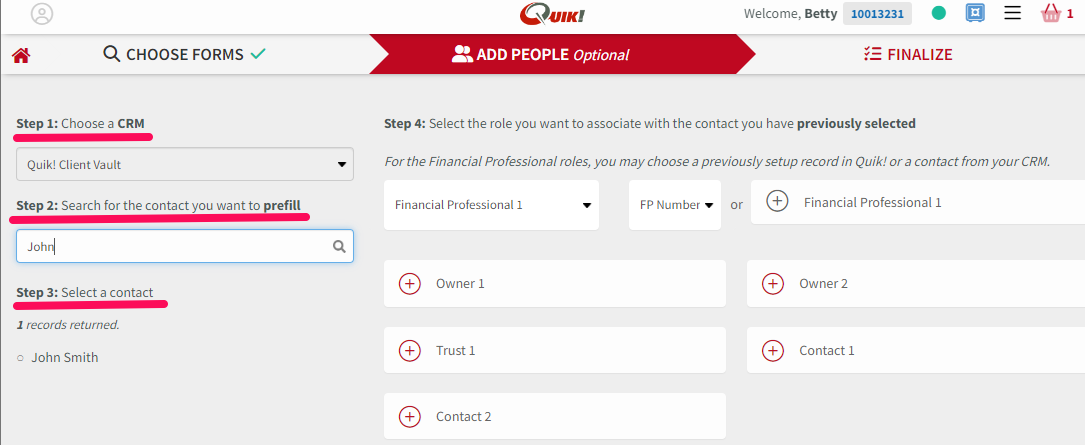 Step 1: Choose a CRM - Quik! Client Vault
Before prefilling a form with data, select the CRM you wish to pull data from. If you have added a client record to your Vault, it will be automatically selected, and you can skip this step. If you have added more than 1 CRM connection to your account, click on the drop-down to see a list of your CRM connections (listed by Connection Name)and select the one you want. For details on how to Add a CRM connection, see, Which CRM integrations the Quik! App support.
Step 2: Search for the person you want to prefill:
Use the contact search field to find people whose information you want to add to forms. Search by name and the results will be displayed below.
Step 3: Select a client
When you see the name of the person you want, click on it. This will select the name, and it will be highlighted in red.
Step 4: Add the client to a role
After you have selected a person, you need to assign them to a role. Click on the "+" next to any role shown on the right, and the person will be assigned to that role. Any person can be assigned to more than one role if desired. Once assigned, you can remove that person from a role by clicking the X next to their name.
Step 5: Add and Use Financial Professional Information (optional)
This step is entirely optional before launching forms, and you may add as many or as few people to roles as you want. Also, there is Click on this link to learn: How to Add and Use Financial Professional Information.
IMPORTANT NOTES: This step is entirely optional before launching forms, so you can add as many or as few people to roles as you want. Also, there is no harm in adding people to roles for whom you have minimal information entered in your CRM; as long as a field on your selected forms asks for their information, it will be automatically prefilled onto the form-- otherwise, the field will be left blank if you have no data for that person in your CRM.
Finalize
Launch Forms - Click here to learn more!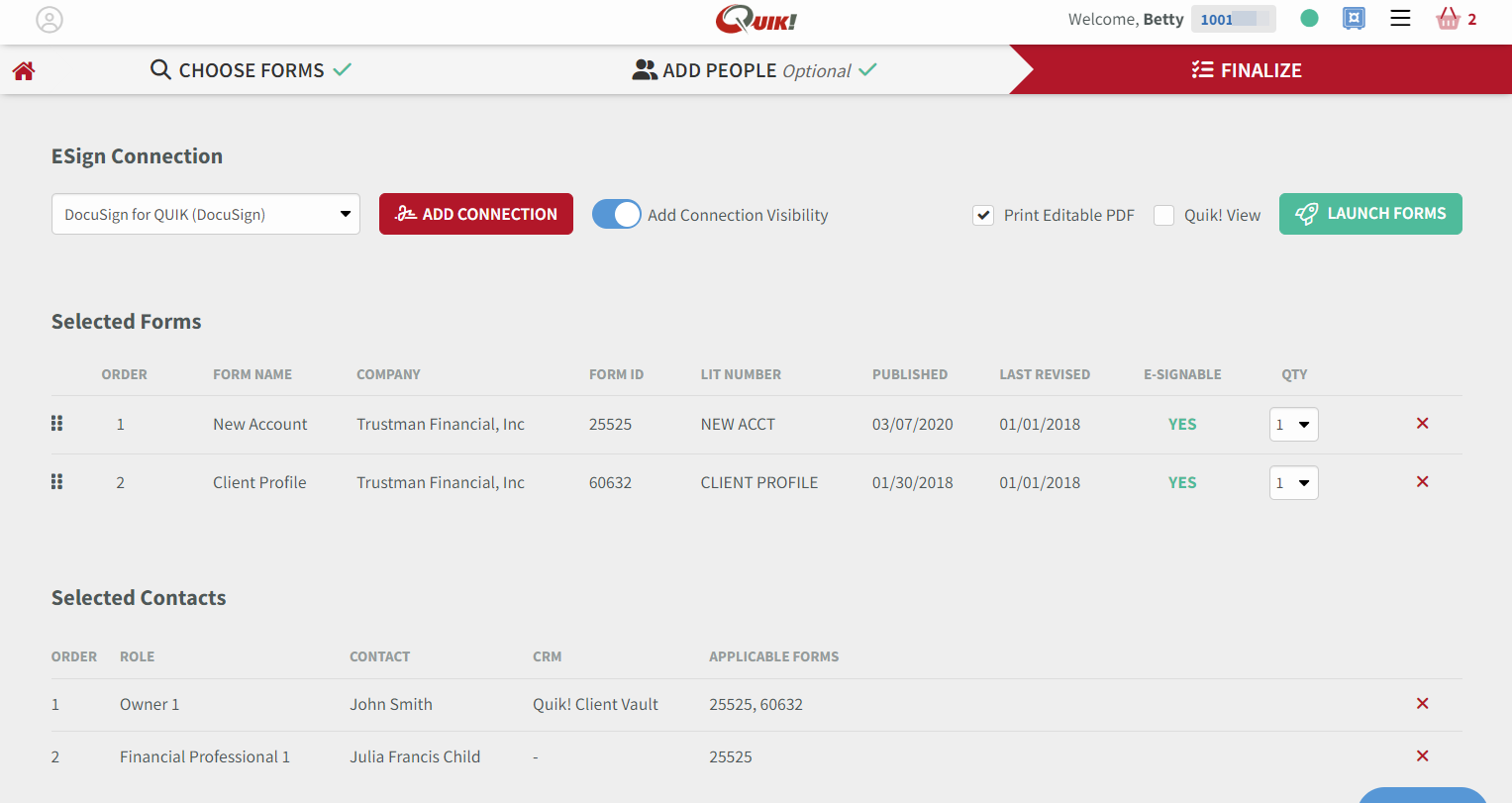 E-Sign Forms Using DocuSign or SIGNiX