What's the Point?
Form Bundles can save you time by grouping forms that you often launch together. Say you have a package of 3 forms that every new client needs to fill out. You can create a Form Bundle that includes these 3 forms. Now, instead of searching for each of these 3 forms individually every time you send them to a new client, you can perform a single search to return the bundle and get to launching forms faster.
Sometimes account Admins want to create a Form Bundle that all users can see. These are called Public Form Bundles. This page explains how to create, modify, and delete forms in Public Form Bundles.
How To
There are a couple of ways to manage Public Bundles in the Quik! Forms App. Each method is described in detail below:


Manage Form Bundles from Search Results
The most common way to create and modify Public Form Bundles is through the forms listed in your search results. After you search for forms, your search results are listed in rows on the right. Included in the results section is a small document icon that looks like this:
        
Click that icon to bring up the Manage Form Bundles window. Here you will see the name of the form and information on whether it is already a part of any Form Bundles.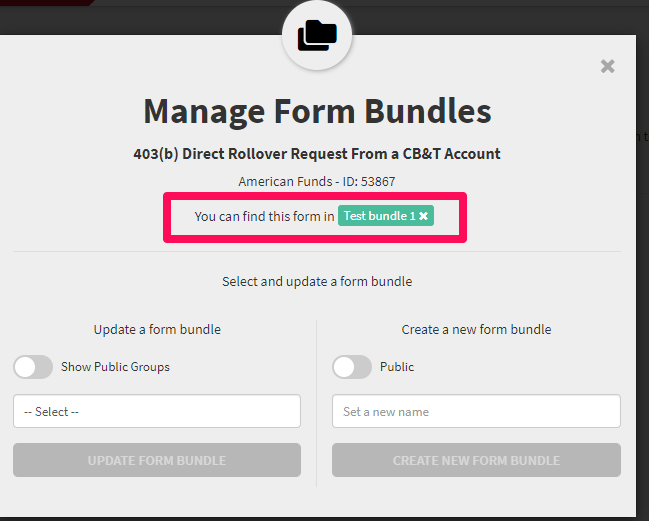 You can create a new Public Form Bundle by clicking on the Public toggle under Create a new form bundle. Type the name you wish to call the new Form Bundle in the Set a new name field, and click CREATE NEW FORM BUNDLE you have now created a new Public Form Bundle. Your new bundle is available to use by all users on your account. You are free to search for more forms and add them to this newly created Form Bundle later.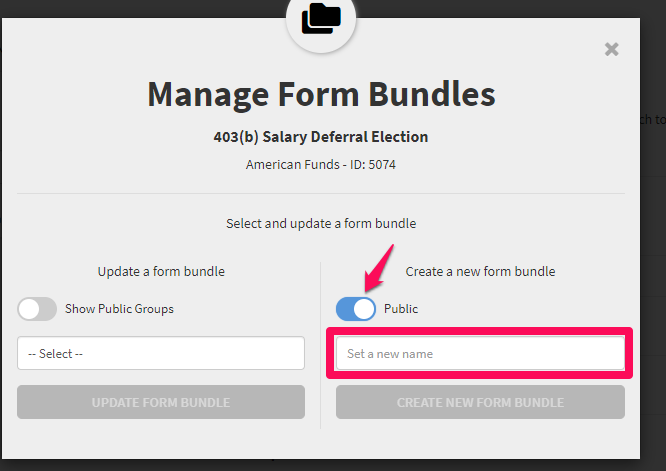 If you want to add the selected form to an existing Public Form Bundle, click on the SHOW PUBLIC GROUPS toggle, then click in the drop-down menu to find a Form Bundle you would like to add this form too, select the Form Bundle, and click UPDATE FORM BUNDLE.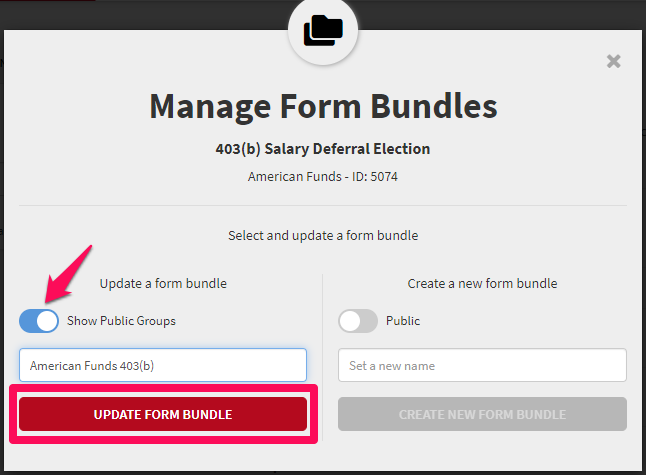 To have a Public Form Bundle deleted please have an account Admin contact Quik! at (support@quikforms.com) with a request to delete a Public Form Bundle. Be sure to include the Bundle Name or the form IDs you want to be removed. Our Quik! team will make the changes on behalf of your account. The account Admin will be notified when the changes are complete.