Let's get started
There's a reason so many companies worldwide are replacing wet signatures with e-signatures. E-signature services allow people to quickly and securely sign documents from almost anywhere in the world, getting them signed in minutes, not days or weeks. We really believe that Quik! is the fastest and most straightforward way to e-sign a form. All Quik! forms are e-signable by default, as long as they have space for at least one signature on them. DocuSign is one of our e-sign partners, and as long as you have an account, you can use the Quik! App to sign any form with DocuSign.
How To
Go to the hamburger menu at the top and select Settings from the homepage. In the Integrations section, you will see the DocuSign block. Click on the ADD ACCOUNT button to show the Add DocuSign Account pop-up.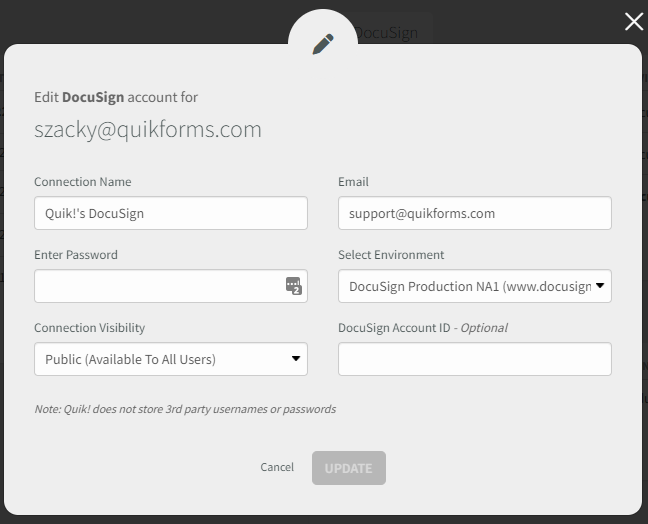 Here you need to enter information in the following five (5) fields:
CONNECTION NAME: Enter your account name from the DocuSign account you are setting up. Since Quik! supports the ability to connect to multiple DocuSign accounts, you will need to give each a descriptive name to know which is which. For example, "Main DocuSign Account."


EMAIL: Enter the email (which is also the username) associated with this DocuSign account.


PASSWORD: Enter the password associated with this DocuSign account.


SELECT ENVIRONMENT:

All DocuSign connections in the Quik! App are automatically assigned to the "Production NA1" environment in DocuSign by default, as this is the correct option for most users.
If the connection you are adding belongs to a different DocuSign environment, select the environment the DocuSign account belongs to from the drop-down menu.

If you are unsure which environment to select, you can look up your environment by navigating to Settings > Plan and Billing within your DocuSign account.
Alternatively, contact your representative at DocuSign, and they will inform you.
Right-click on the video to open a new tab to view this short video.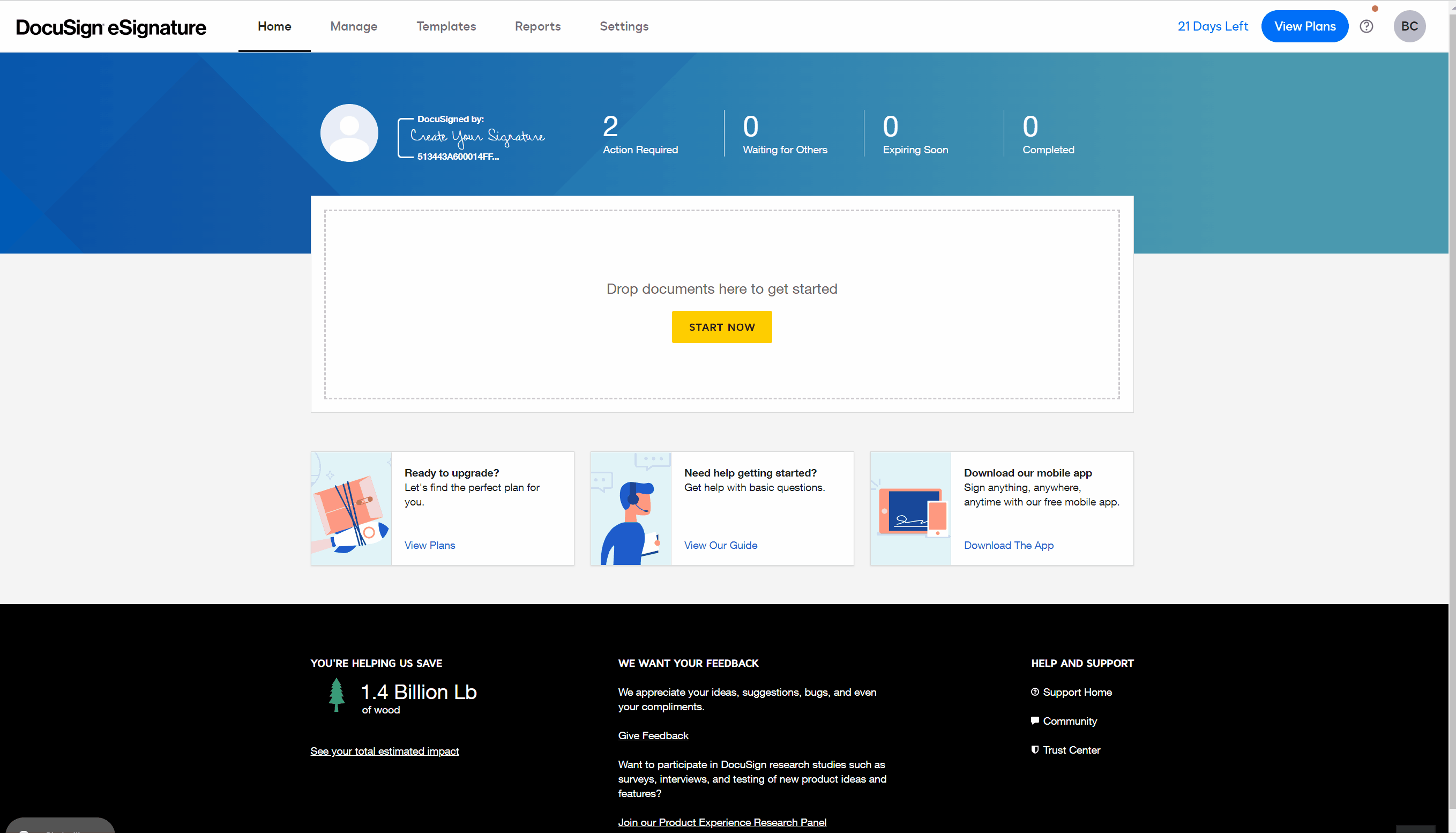 CONNECTION VISIBILITY: Choose from Public (Available to All Users) or Private (Available to Only You).
DOCUSIGN ACCOUNT ID (OPTIONAL): Fill in this section if you have more than one DocuSign account and would like to specify which DocuSign Account ID to use. You can find your Account ID in DocuSign here:

If you have more than one DocuSign account and you do not include an Account ID, then your default (typically the most used) DocuSign account will be chosen.
When you are finished entering the above information, click the ADD button to add the connection to your Quik! account. Once the connection has been added, you will see it listed in the DocuSign block. The USER ID associated with the connection can be edited by clicking on the pencil icon. The USER ID is a personalized name for the connection and is used to distinguish between multiple DocuSign connections added on the same Quik! account. Remove the connection by clicking the X.
See here for steps on how to e-sign with DocuSign.